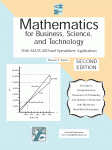 Students and working professionals will find that our Mathematics for Business, Science, and Technology, Second Edition, is a concise and easy-to-read text for a variety of basic and advanced mathematical topics. This book contains all necessary material for the successful completion of a degree in business or technology.

Table of Contents:

Chapter 1:

Numbers and Arithmetic Operations

Number Systems

Positive and Negative Numbers

Addition and Subtraction

Multiplication and Division
...... Up to 13 Chapters. Including Appendix.


Pub.:
XPmath
\ Download:
Mathematics for Business, Science, and Technology - Free E-Book